Located on the beautiful
ASU West campus

, the ArtSpace West Gallery has several gallery installations throughout the year. Located on the north side of University Center Building

we look forward to seeing you soon.

 

 
Jean Chaudhuri: "What's Life All About?"
This exhibition's title comes from a poem by the author and community leader Jean Chaudhuri, whose work and life highlights a central part of her life: what it means to give back to your community from an Indigenous perspective. A citizen of the Muscogee-Creek Nation, Chaudhuri became Director of the Traditional Indian Alliance for Greater Tucson and Executive Director of Tucson Indian Center in 1972. An author, playwright, and poet, she wrote the comedic play Indians Discover Christopher Columbus for the 500thanniversary of Columbus's landing on this continent. She wrote the book A Sacred Path: The Way of the Muscogee Creek with her husband, Joy Chaudhuri. The Labriola National American Indian Data Center shares Jean Chaudhuri's collection so that others may feel the love she carried for the Indigenous community here in Phoenix and Tucson. A special opening reception will take place on Wednesday, November 9, from 7:00-9:00 pm.  The installation is free to the public and open on Mondays-Thursdays from 12noon-5pm through November 23.  For more information, go to https://newcollege.asu.edu/artspacewest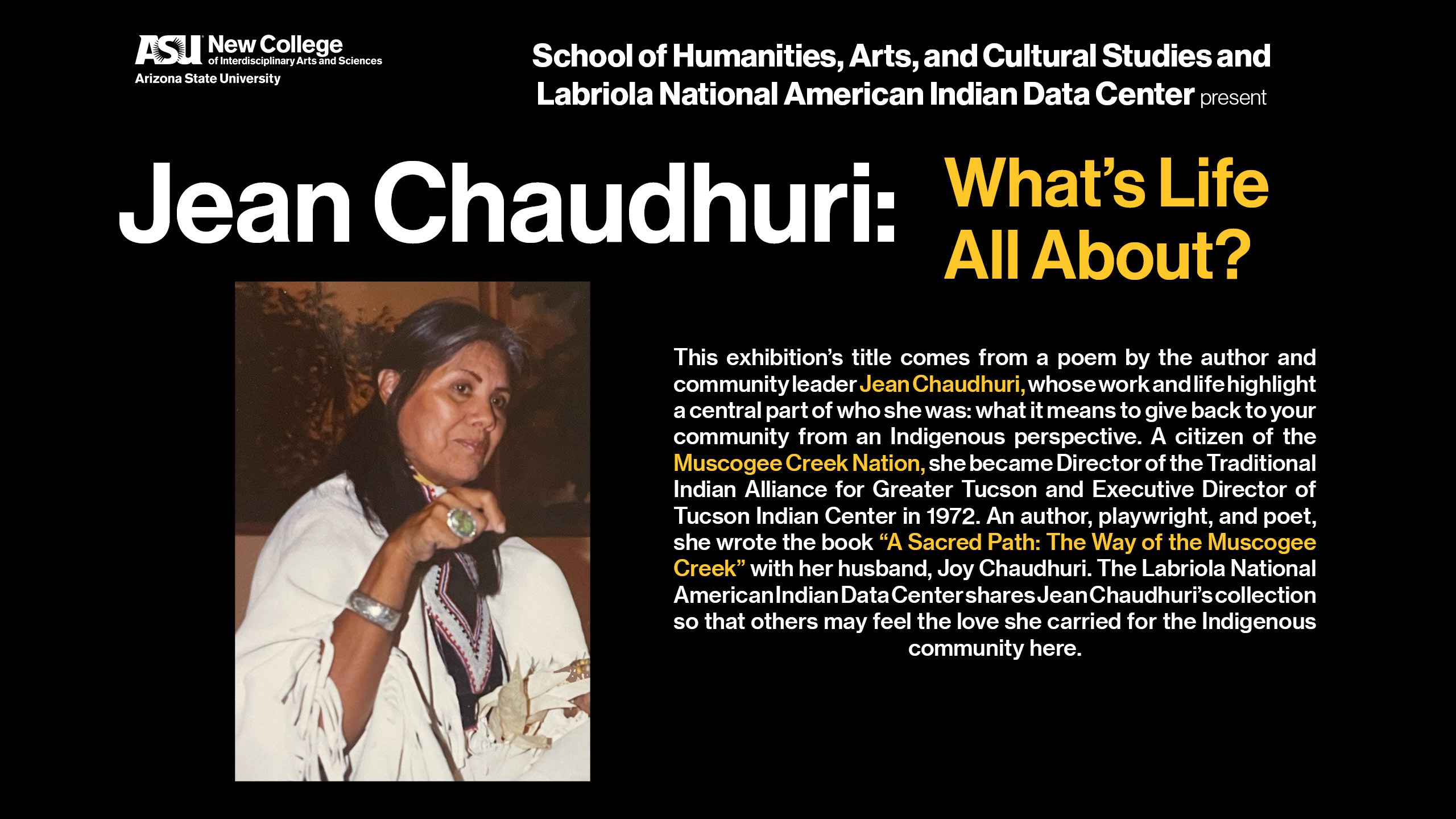 alejandro t. acierto: Strategies for the evasion of capture
Our first installation in ArtSpace West for the new 22-23 season is created by Interdisciplinary Arts and Performance faculty alejandro t. acierto and opens with a reception on Wednesday, October 5 @ 7 pm. Strategies for the evasion of capture uses photographs, video, sculpture, and performance to look, metaphorically and actually, at pugos, a unique low-flying bird from the Philippines that consistently remain obscure from photographic capture. Their elusive nature poetically opens the possibility of other realities, of other existences, or of different ways of being that are not reliant on colonial contact. This installation draws from archival television news footage, interviews with prominent zoologists, and historical ephemera in an exhibition that gestures to contemporary discourses around visibility and the tensions embedded in surveillance cultures. 
This installation runs Oct. 6–27, Mondays–Thursdays, noon–5 p.m.